During the holy month of Ramzan, Mohammad Ali Road and other lanes around Minara Masjid comes to life. This meat festival starts around 6 to 7 p.m & remains open till wee hours of morning. Mohammad Ali Road is truly a paradise for meat lovers. Food vendors at Mohammad Ali Road serve all kinds of meat items including kababs, chicken, baida roti & much more at a decent price. Here is a complete guide on must try Ramadan street food at Mohammad Ali Road.
What is Ramzan?
Every year Muslims all around the world celebrate Ramzan. Ramzan (also known as Ramadan) is one of the 12 months in Islamic calendar which is based on lunar cycle hence the dates change every year. It was during that month that the Quran (the holy book of Islam) – was first revealed to the prophet Muhammad by Allah (God). Muslims all over the world fast during the daylight hours from dawn to sunset in Ramzan. Fasting is one of the Five Pillars of Islam. Meals are served before dawn and after sunset. The meal served before dawn is called sufur, the one served sunset is known as iftar.
Mohammad Ali Road
Mohammad Ali Road is named after Mohammad Ali Jouhar (an Indian Muslim leader, activist, scholar, journalist and poet, and a leading figures of the Khilafat Movement) is just ten minutes' walk from Masjid Station. This famous khau galli (Food Street) in Mumbai gets crowded and noisy during Ramzan. Especially the lane near Minara Masjid which is full of food stall selling non vegetarian delicacies, sweets, milk shakes, dry fruits etc.
Mohammad Ali Road can be divided into two parts. The one before sunset when Muslims come to buy for iftaar so that they can break the fast. During this time one can find stalls selling mostly dry fruits, chana, ragda and fried stuff which is worth tasting for ( mostly takeaways).
The second part is after sunset when the road turns into a street full of amazing non vegetarian cuisines like chicken bheja fry , chiken gurda , seekh kabab , shawarma and much more . The USP of this place is the is the taste.
One can find many foodies including non-Muslim tourist exploring the delicacies here. After 8 p.m the lane becomes so crowded that it becomes difficult to find your way. But, there's a certain fun in tucking into a plate of kheeri kebab and malpua while being pushed and shoved. As soon as you enter Mohammed Ali Road, the aromas wafting from the various food stalls pulls you and makes you feel hungry.
Must try ramadan street food at Mohammad Ali Road
We couldn't resist the temptation and made a trip to try the iftar food. There are multiple delicious food options available here. For a hardcore foodie it can become difficult to choose from them. Among the many food stalls and shops there are few that stands apart from the rest (it's very difficult as all food stalls are good in their own way). Here is a list of what to try when you are at Mohommad Ali Road.
1. Spicy Chicken soup at Bademiya
Visit bademiya for their spicy chicken soup. The soup is specially made only once a year during Ramzan. Other option you can try at bademiya are bheja masala, gurda masala, chicken bhuna, chicken seekh with pav. All the food is awesome and defiantly a must visit.
2. Hydrabadi Haleem
The Charminar stall offers Hydrabadi Haleem made in 100% pure ghee. Haleem is a stew composed of meat, lentils and pounded wheat made into a thick paste. Its available only during Ramzan and hence is a must try.
3. Authentic Delhi nalli nihari with tandoori roti.
The Chinese N Grill restaurant offers authentic Delhi nalli nihari with tandoori roti. Trust me this item is a must try. It also offers a wide menu of Chinese Mughlai and tawa items.
4. Malpua at Suleman Usman Mithaiwala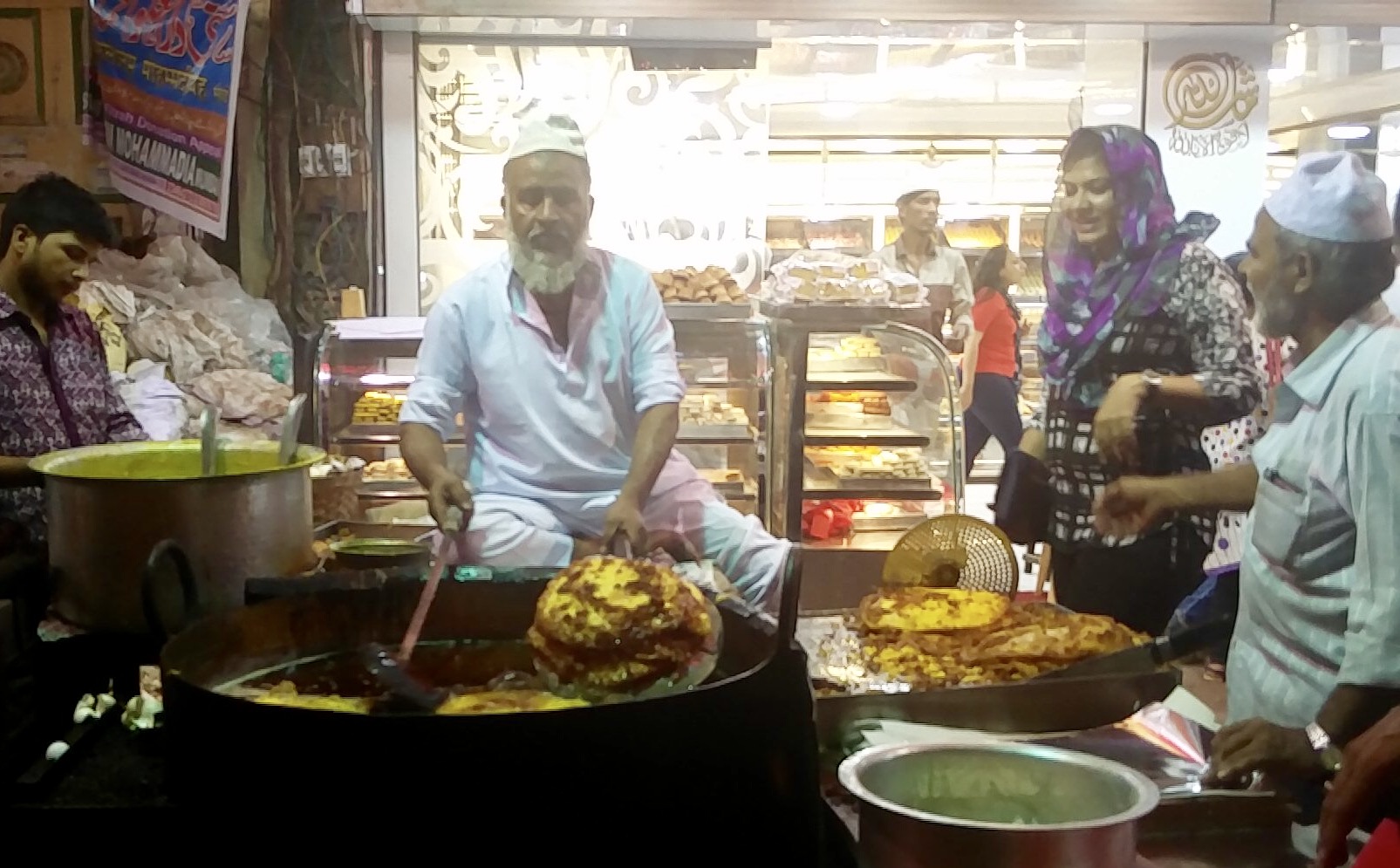 Malpua at Suleman Usman Mithaiwala is a must try. This shop is also famous for its Aflatoon. Other option in desserts that are worth eating are delicious firni in all flavors, rabdi, masala milk, lassi, fruitella.
5. Burhanpur jalebi
There are two stalls opposite each other selling the Burhanpur jalebi. This is Jalebi made up of 'mawa'. It too sweet and taste like gulab jamun. But it's worth a try. 
6. Shawarma at the Shawarma Stand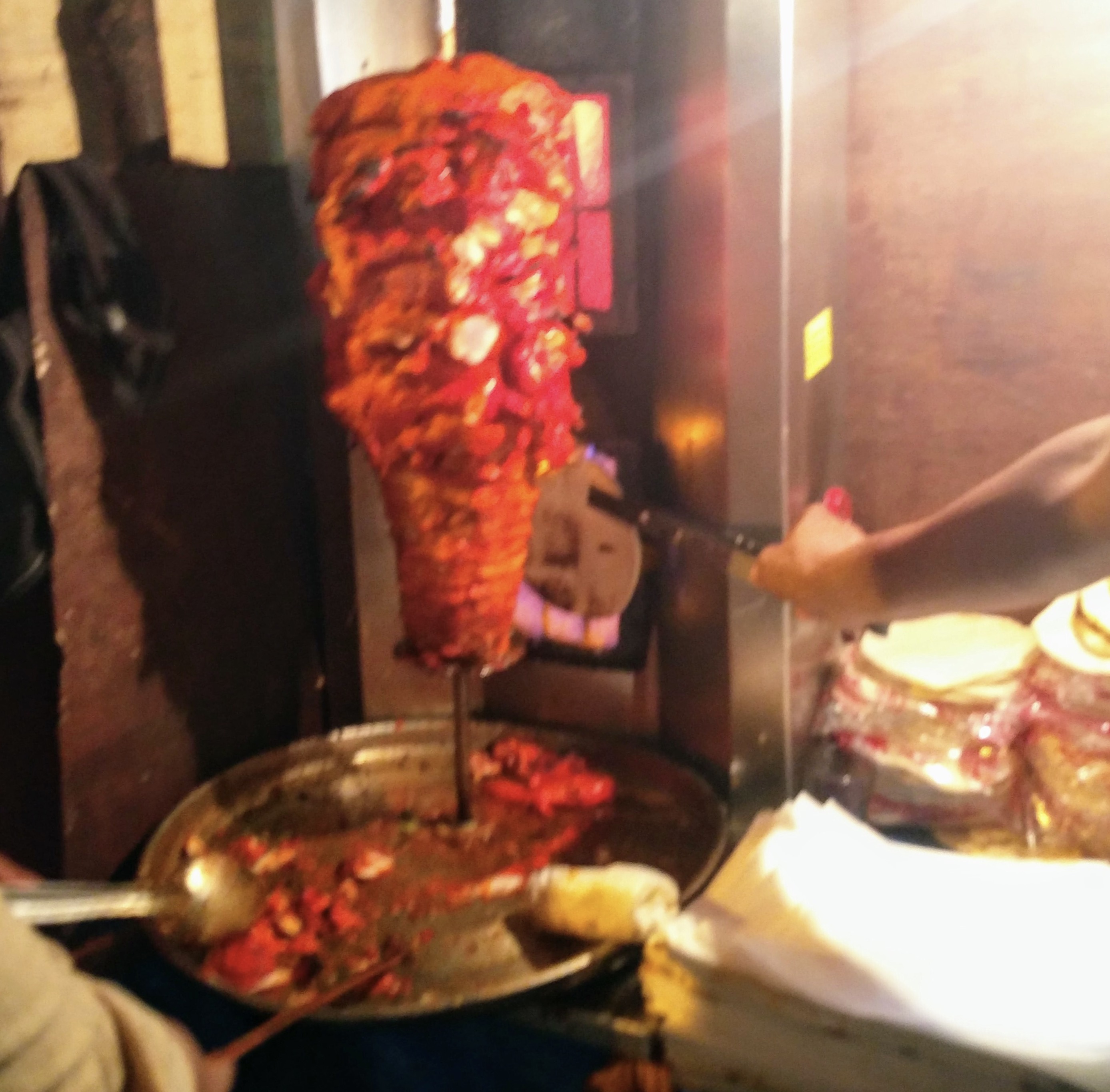 Shawarma at mohammad ali road is a good option to start the meat treat. It is available at a fairly decent price and hence is a must try. One can also try different rolls here.
7. Chicken Tandoori, Tikka, Tangdi, kabab, Kaleji 
The Chiken Tandoori, Chiken Tikkas, Chiken Tangdi, Chiken kakab, Kaleji (liver) roasted on charcoal or fired can be tried from anywhere. The aroma of these items getting roasted makes us feel hungry.
8. Chote Kebab and lamb pav at Hindustan hotel.
Hindustan Hotel is famous for a mini version of Kebabs called Chote Kebab. These Kebabs are like small meat poppers and are pocket friendly. They turn out to be a good snack for quick munch.
Lastly, for vegetarians, main course items are highly restricted to: Baida Roti without chicken and aloo sabzi. Also there are full chances that these vegetarian items might be cooked in the same oil which is used for non veg items. However, this can be easily compensated by hogging on the various sweets that are sold here.
Insider tips:
Avoid weekend as its too crowded and waiting time takes hours.
As the entire area is too too too overcrowded there is no provision for parking your 4 wheeler. Cars/bikes get towed by police even after 7pm. So the best option to reach this place is public transport. Masjid railway station is just 10 minutes' walk from this place.
Budget: Rs.50 to Rs 500 per person. It largely depends on how much you can eat.
How to reach: It is 10 mintues walk from Masjid Railway Station. From CST it is approximately 2 km.
Whos should visit: Mostly non vegetarians. For vegetarians, main course is limited but there is a good option of deserts.
So what are you waiting for!! Enjoy the festive season with these must try ramadan street food at Mohammad Ali Road. Happy eating 🙂