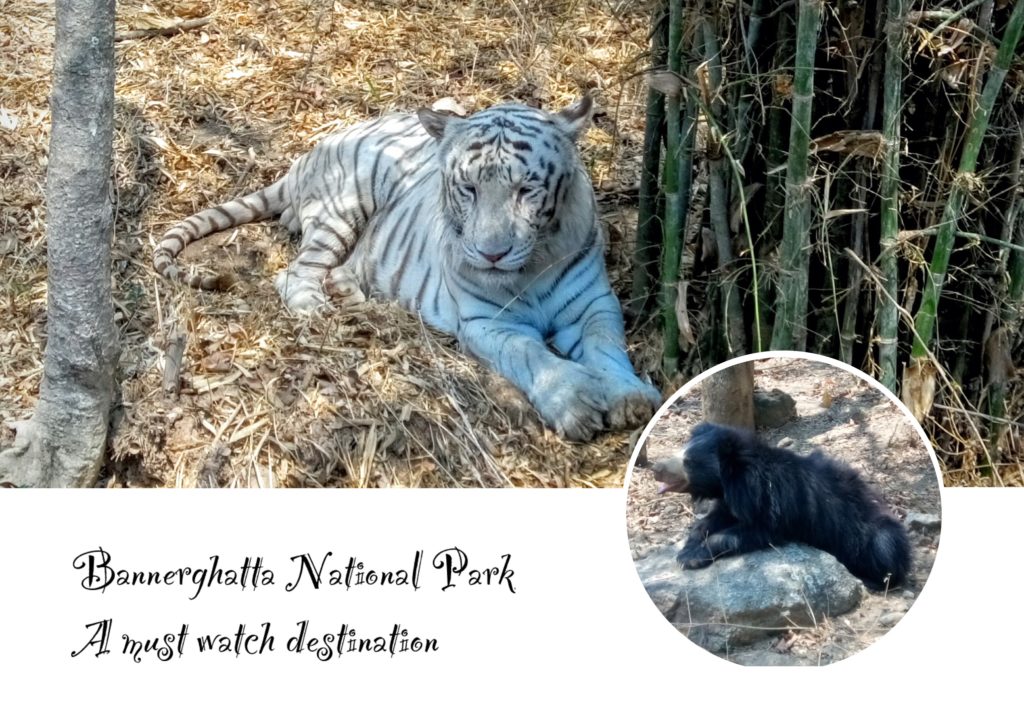 Bannerghatta National Park is a must watch travel destination in Bangalore. Located to the south of Bangalore it covers approximately 104 km2 of area.  It provides home to variety of wild animals like lion, tigers, elephants, deer's, bears, birds and butterflies.
We had the pleasure of visiting this park on a Sunday in the month of March 2016. Anticipating the Park to be crowded on a Sunday we had our breakfast early and left our hotel around 10.00 a.m. The park was around 21 km from our hotel Cross Roads Inn. We had booked two OLA cabs to reach the park. After getting in the cab the OLA driver told us that the park is outside the OLA limit and so they can drop us only till Koli Farm Gate bus stop after that we can get AC bus to the park. Till Koli Farm Gate bus stop the OLA cost us Rs. 148. From Koli Farm Gate we took AC bus V365 to reach Bannerghatta National Park.  It took us around 35 mins to reach Koli Farm Gate and another 30 mins from Koli Farm Gate to the National Park.
We finally reached the Bannerghatta National park all set to explore this place.
While inside the Park
1. Buy your Entry tickets: 
Once you reach the park you need to buy tickets for Entry in the park. There are three categories in the park namely – zoo, butterfly park and grand safari. The charges for each of them are different. For safari the charges vary depending upon the type of vehicle. Plus there is an additional 50% concession for school children's in group. You can also buy the entry tickets online. We paid Rs. 260/- per head for Grand Safari + Zoo + Butterfly park.
2. Enjoy the Grand Safari: 
The Safari takes about 45 mins. Trust me it's worth watching the wild animals in their natural habitat. Keep your cameras ready for the safari as its worth making memories of this thrilling experience. The safari includes Lion safari, Tiger Safari, Elephant Safari, Deer and Bear Safari. Additionally be prepared for bumpy roads in the Safari.
3. Butterfly Park: 
Butterfly Park provides a beautiful butterfly trail. It is enclosed in a dome shaped structure which provide butterfly with necessary habitat to survive and breed. At the end of the trail is a museum providing information on butterflies. It ends with informative video sessions on butterflies.
4. Zoo:
The zoo houses a variety of animals from birds, reptiles, mammals. Just like butterfly park the zoo also has a museum and a theater which screens wildlife information shows. You can also enjoy the zoo through battery operated vehicles by paying additional charge. The zoo premise is quite big and so you have to walk for long and hence the battery operated vehicle is a good option. We paid Rs. 50/- per head to avail this facility.
5. Go Boating: 
Though we did not avail the boating facility but yes the boating facility is available in the zoo premises. One can enjoy the boating facility by paying additional amount of Rs. 50/- per head for half hour or Rs 250/- for full boat for half hour.
6. Shop at the Park:
At the entry of Bannerghatta national park you get many shops right from food, handicraft, Karnataka special Channapatna toys, Caps etc. Also there is a shop inside the butterfly park where you can shop soft toys, bags, jeweler etc.
7. Stop for Food:
There are many food stalls at the entrance of the Bannerghatta National Park. Here you can get variety of food like raw mangos, cucumber mixed with salt and chilies, coconut water, fruits etc. It is advisable to keep your tummy full as the zoo is spreads out in a large area and walking can make you hunger. Plus there are shops in the park to refill your tummy.
          Note: Taking non vegetarian food inside the zoo or safari is restricted.
At Bannerghatta National park our day was well spent and we returned home with bags full of memories.
Insider tips
How to reach: The best was to reach Bannerghatta National Park is from Kempegowda Bus Station by bus number 365. Or bus number V365 from Majestic.
Budget: Maximum Rs. 1000 (inclusive of food, travel, ticket)
Time required from Bangalore: approximately 1 hour to 1 hour 30 minutes (depending on the traffic)
Who can visit? : Everyone right from kids to senior citizens.
Happy travelling!!
Dont forget to visit the Bannerghatta National Park Image Gallery. 🙂