I have been visiting IIT for a couple of years now. Since IIT-B is located in the heart of nature one get to see different and rare trees and birds. One such tree which has attracted me for past so many years is a Cannonball tree. Earlier, I was unaware of the name and the significance of this tree. However, after some research, I came to know that this is not just another tree with beautiful flowers, but it has significance in Buddhism. In fact, the cannonball tree – Couroupita guianensis – is a rare tree with many benefits. Here is what I learned about the beautiful tree.
Cannonball tree is listed among the rare trees in India. It is native to rainforests of South and Central America but has been in India for almost 3000 years. Its botanical name is Couroupita guianensis and in India, it is known with a variety of names like Nagalinga or Tope gola in Hindi, Lingada mara or Nagalingam in Kannada, Shivalingam in Marathi, Kaman gola in Bengali and Naagalingam in Tamil. In India, the Cannonball tree is considered as a sacred tree by Hindus.
In the centre, the flower has a shivling shape and snake shape pollens surrounding it. In most part of India, the flower is used for Shiv Pooja and hence the tree is grown around temples. Also, the flowers have a very strong scent, especially during morning and evening.
The flower
The flower of the tree is as known as Salavan flower and is considered as a symbol of Buddhism. In Sri Lanka, these flowers are called Sal Mal. A Sal tree is a scared tree for Buddhists. So in Sri Lanka, the cannonball flowers are offered to Lord Buddha. According to Buddhist scripture, it is said that Lord Buddha (Prince Siddhartha) was born in a garden of Sal trees. Maya Devi gave birth to Prince Siddhartha in 'Lumbini Sal Garden' and under a sal tree. Still, this place in Nepal is a major attraction of Buddhist all over the world. Buddha was showered with scented flower petals as he laid on the deathbed surrounded by his disciples.
The tree
Directly on the main truck or main branches, the tree bears large, heavy and woody fruits looking similar to cannonballs hanging in the cluster and hence the name cannonball tree. The fruits develop within 18 months and remain on the tree for almost a year or more after which it falls with a thud and creates loud and explosive noise. Hence it is advisable to stay away from the tree as there are chances that the fruits falling might injure you.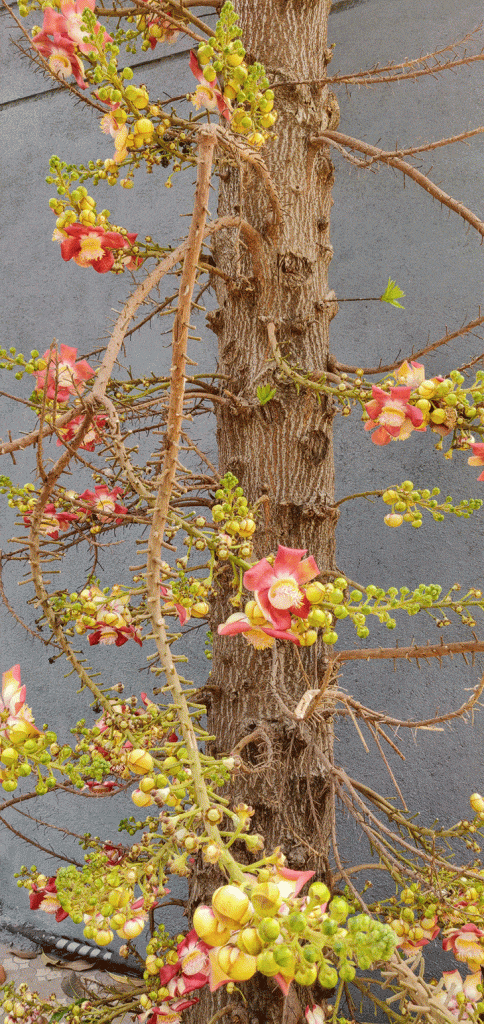 Benefits
This rare tree has many medical and other uses.
The plant extract is used to treat stomach aches and cold.
The juice extracted is used to treat skin diseases
The tree parts are used to treat malaria
Young leaves are used to provide relief from a toothache
Fruit shells are used as utensil or containers
Flowers have a good strong smell which is used to add scent in cosmetics and perfumes
The wood of the tree is used to manufacture boxes, toys, light artefacts, etc.
Cannonball tree – Couroupita guianensis – is a rare tree with many benefits. In India, it is known with many names and is considered as sacred by Hindus. The flower of the tree, known as Salavan flower is considered as a symbol of Buddhism. The flower is beautiful with a sweet fragrance. The tree also has many medical and other benefits. In short, it is a rare and unique tree.