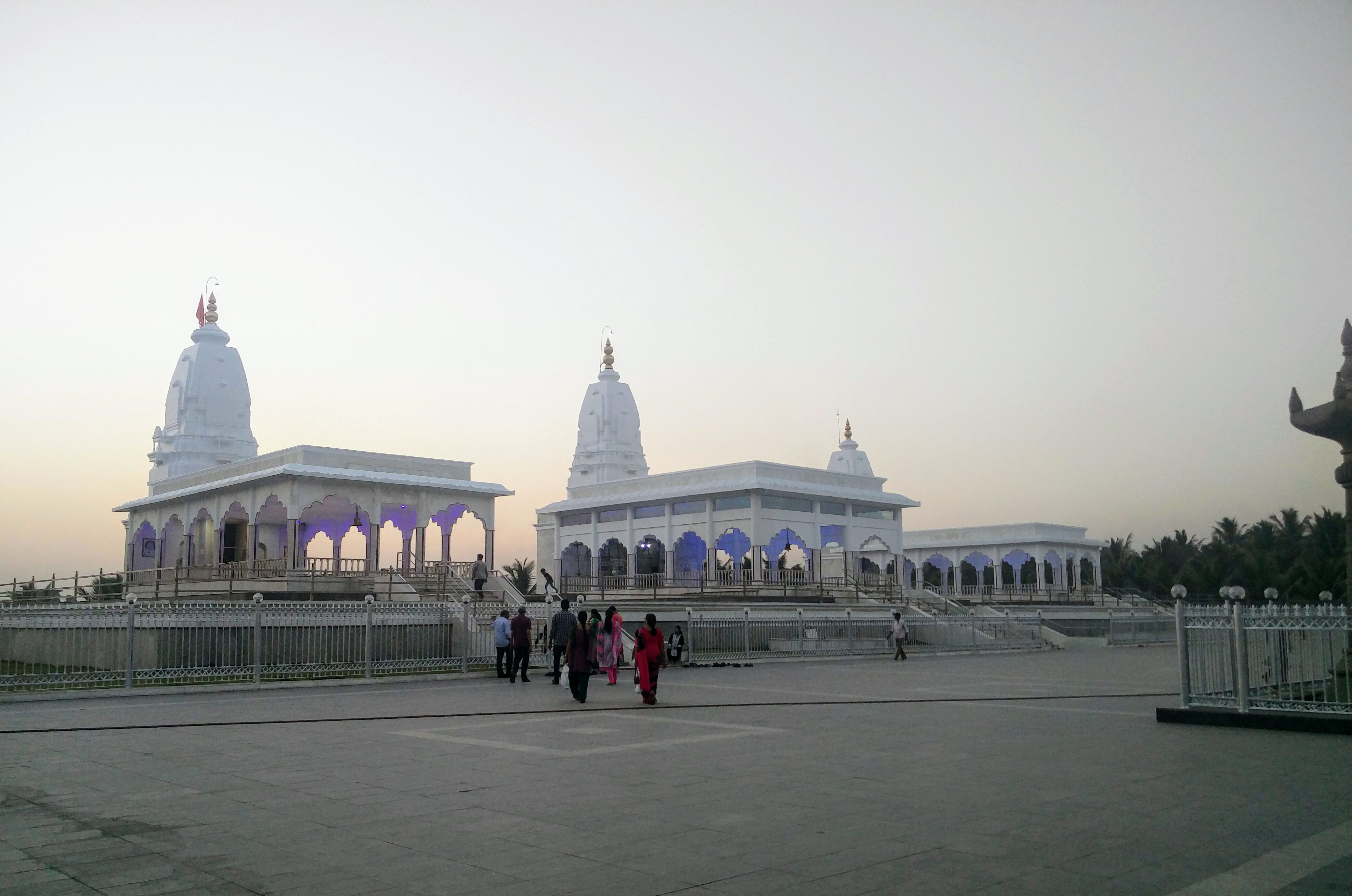 Bawkhaleshwar Temple Navi Mumbai
Bawkhaleshwar Temple Navi Mumbai is a place worth visit. It is located at Pawne gaon (village) in MIDC area in Navi Mumbai.  The temple is built on an area of nearly 2000 sq. ft. and lies next to Shri Ganesh Naik's (Ex-Guardian Minister of Thane District & State Excise) quarry. Bawkhaleshwar temple is a scenic and well maintained place which houses three temples namely Shiva, Ganpati & Devi temple.
I got the opportunity of visiting this scenic temple when we were returning from a friend's marriage and my husband told me about the (Bawkhaleshwar) temple. Within no time we made plan to visit the temple since it was on our way back home. Upon reaching the destination I was surprised to see such a huge, scenic and peaceful place hidden in the industrial area of Navi Mumbai. Being born and bought up in Navi Mumbai I still had never heard of this temple before. The place is like a hidden gem in midst of city hustle-bustle.
Reasons to visit the temple:
Nestled in the mountain ranges in Navi Mumbai, Bawkhaleshwar Temple stands out unexpectedly due to its beauty and serenity. Unlike any temple in and around Mumbai, this one is not cramped or crowded as very few people know about it.
Bawkhaleshwar temple is one of the scenic places in Navi Mumbai. It is not only the biggest temple in Navi Mumbai but is also one of the beautiful and spacious temples. The place is peaceful, clean and surrounded by natural beauty. You can see natural waterfall in rainy season. Again, in rainy season the water comes out of mountains and enter the temple's pond which increase its beauty. It has a huge artificial pond which has lots of fishes and clean water. You can find people of different age group throwing biscuits and other food items in the pond for the fishes to eat.  It also has a beautiful garden in the complex. The complex houses three temples namely Shiva, Ganpati & Devi temple. The flouring of all the three temples is made up of marble.
There is no entry fee for the temple. More importantly, there are no barricades or restrictions of any kind in the sanctum sanctorum. So one can sit around and spend quality time looking at the hills and greenery around the complex. The environment and location is picturesque which refreshes your mind and soul. The sunset along with cold breeze flowing around adds on to the beauty of this place. My little princess enjoyed running around the place while we enjoyed the sunset.
Since the place is near a quarry one can see big stones and rocks being extracted at a distance. Huge thud is also heard as this stones are been extracted after regular interval.
Lastly there is ample place for car parking at the temple premises.
How the temple came into existence:
As per locals, nearly 15 years ago the honorable Naik family had found a stone in the shape of Lord Nandi and since then it was worshiped at the temple sight. However, after Shri Ganesh Naik's wife saw a dream, the leader decided to build a temple at the place. For the opening of Bhavkaleshwar Temple to the public an installation ceremony of the idols was performed at the hands of Balbrahmachari Sukhdev Maharaj Bardikar. Maharaj arrived on a rath with the stone in the shape of Lord Nandi.
Bawkhaleshwar temple Navi Mumbai Address:
Pawne, Forest Area, Navi Mumbai, Maharashtra 400710
Bawkhaleshwar temple Navi Mumbai timing:
7.30 a.m to 7.30 p.m all days.
Location on map:
Insider tips:
How to reach Bawkhaleshwar temple – The nearest railway station is koper khairane in Navi Mumbai. One can take auto from the station for the temple. You can also get down at Turbhe station and get auto from there. However I would suggest visiting the place using your own or hired vehicle because there is no public transport available easily at the temple for going back to the station. The autos are not available that easily for going back. The only drawback of this temple is public transport is not available easily near the temple premises.
Time required to reach Bawkhaleshwar temple from Koper Khairane station – Approximately 10 minutes.
Best Season for visit -One can visit the temple in any season. However the beauty at the temple and be best experienced during rainy season.
Best time for visit – Best time is early morning and evening after 5:30 pm when you can enjoy rare cold breeze in Mumbai. Also the sunset at the temple is must watch.
Who can visit – It is a must visit experience for everyone.
In nutshell:
Bawkhaleshwar temple in Navi Mumbai is a hidden gem in midst of city hustle-bustle. It is not only the biggest temple in Navi Mumbai but is also one of the beautiful, scenic and spacious temple in Navi Mumbai. Bawkhaleshwar temple is a must visit destination of Navi Mumbai.