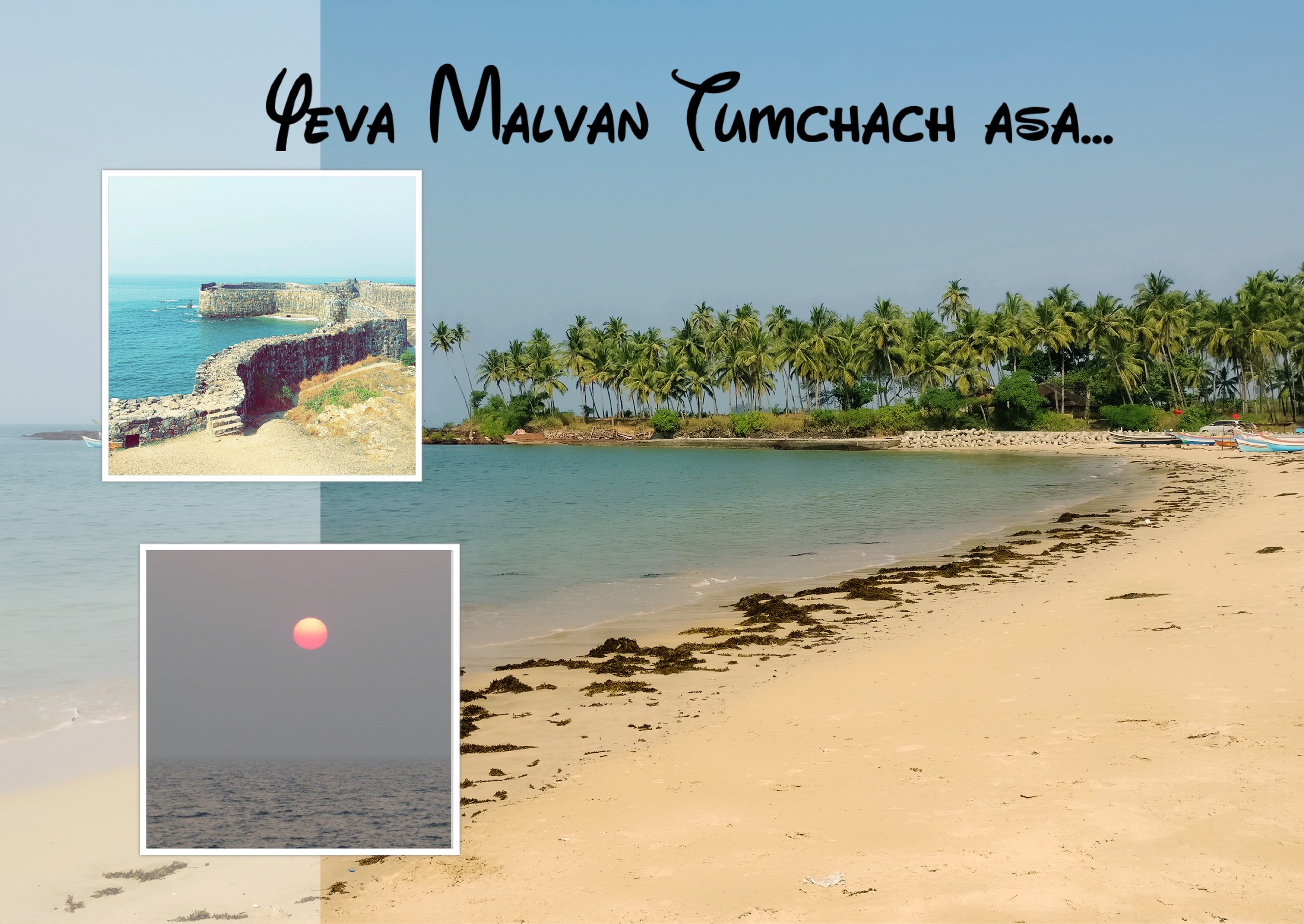 Malvan – A hidden paradise as many call it, is one of the perfect holiday destinations near Goa. It is one of the eight talukas in Sindhudurg district that houses most beautiful and clean beaches, historic forts, scenic and historic temples. Situated on the coast of Western India it is well know for water sports, S.C.U.B.A Diving and snorkeling, dolphin watch rides, Malvan cuisine (like fish, crab, solkadi, kombadi vade).
We decided to visit Malvan on the occasion of new year 2017. With the intention of reaching Malvan before 6.00 p.m in evening, we left Mumbai around 6.30 a.m in morning . We took the Mumbai- Pune – Satara –  Kolhapur – Gaganbawda – Talere – Kankavli – Kasal – Malvan route. The beauty of Mumbai Pune express way, Gaganbawda – Talere ghat and greenery of Kokan kept our 12 hours road trip interesting.
After a drive of approximately 550 k.m we reached Tuljai Paryatak Niwas – Malvan our home for next three days.
Not to miss during your stay at Malvan –
Visit to the historic Sindhudurg Fort– Our first destination for day 1 was Sindhudurga Fort. Sindudurga fort has a unique place in the Maratha history but unfortunately this beautiful monument of Shivaji's legacy is one the verge of extinction. Sindhudurg (sindhu = sea, durg = fort) as the name suggest  is a sea fort surrounded by water from all four sides.
The only way to reach the fort is by boat. To reach the fort one can take a boat from Malvan jetty (Malvancho dhakko). The ticket of the boat for the fort is Rs. 70  for adults and Rs.40 for kids above 3 years of age for round trip.

The first boat from Malvan jetty starts around 8.00 a.m to 8.30 a.m. Each boat starts only after getting around 20 to 25 passengers. Depending upon the wind speed it takes around 15 to 30 mins to reach the fort. You are given a time of 1 hour to explore the fort and return back to the same boat. Guides are available at the fort for Rs. 300 for an hour. Also there are plenty of food stalls inside the fort. The best time to visit the fort is early morning as it is less crowded and also there is less heat while you roam around.

Watch sunset at Rock Garden. – Our next destination was rock garden which is walkable from Chivla beach. This is the idle place to spent your evening after a hectic day. One can go and sit on the rock and watch the setting sun with sound of waves.

It is actually a beach enriched with rocks of different shape and size. There is a well maintained and scenic garden besides the beach. The garden has a play area for kids consisting of slides and swings. The are many food stall at the entry of the rock garden serving tea, coffee, ice gola and all type of chat. Also, there is ample place for car parking at the graden. The fees for car parking is Rs.50.

Mediate at the Jai Ganesh Temple – We began our day 2 by seeking lord Ganesha's blessing at Jai Ganesh Temple. The temple was build by Great Astrologist Shri Jayant Salgaonkar also maker of  the famous "Kal Nirnay" calendar. It is a simple but beautiful temple with welcoming two elephant images, beautiful carvings, marble designs and a golden idol of Ganesh with Riddhi Siddhi. You feel calm and quit at the temple. The temple is on the way to Chivla beach and has place for car parking. Besides the temple there is a small vegetarian restaurant call Jai Ganesh which serves good food.
Relax at beaches – Malvan is famous for its beaches. Chivla beach, Tarkarli beach and Devbagh beach are among the most famous beaches. Beaches in malvan are clean, scenic with have clear water and white sand. One can easily spent an entire day relaxing on this beaches. Chivla beach is one of the small, calm and serene beach having 'C' shape. We spent our evening at the beach and watching the sun set. It was one of the best experience of Malvan. There are many hotels near the beach among which Mayekar's Holiday Home and Hotel Chivla beach are the famous ones.

Tarkarli beach is around 8 km from Malvan. Know as Queen beach of Malvan. It houses M.T.D.C cottages (beach resort)  and M.T.D.C House boat. You can do camel ride and horse ride at this beach. One can find small crabs, start fish and seagulls at the beach. There are small food stalls at the beach.There is ample space for car parking and the charge for the same is Rs. 50. However we found the beach to be overrated.

Devbag beach located near Tarkali is a must watch as it is one of the most beautiful beach of Malvan. The road to the beach is scenic. At the beach you can hire a private boat for Rs.700 for the entire day. The boat takes you to spots like 'Sangam' (a union of Karli River flowing into the Arabian Sea), Sea eagles beach, Vengurla – Malvan beach and Tsunami island (well known for all sort of waters sports).

Indulge in waters sports – We had reserved day three exclusively for water sports and scuba driving. Malvan is famous for water sports at a cheaper rate(compared to Goa). Water sports are available at almost all beaches like Chevla, Tarkarli, Devbagh. Devbagh beach is considered to be the safest for water sports. Tsunami island off the coast of Devbagh beach is famous for water sports.

The rides include banana boat ride, bumper boat ride, speed boat, Jet sky and parasailing in the sea. Trust me water sports at malvan are a must to do activity as you would be thrilled when the water of the sea splashes on your face, soothing and calming you, while you ride and indulge in this exceedingly exciting and thrilling adventure out here.

Discover the beauty of underwater world – Another exiting activity that we enjoyed at Malvan was Snorkeling and Scuba Diving. In early 2000's M.T.D.C has mentioned that Sindhudurg fort and its vicinity have abundant coral reeves. So you find many people offering Snorkeling and Scuba Driving here. This is one of the safest place for Scuba Driving. There are three types of packages for for scuba diving i.e shallow water, mid sea and deep sea. Shallow water will cost you around Rs. 500 to Rs.700. Mid sea cost around Rs. 1000 and deep sea cost around Rs. 1200 to Rs.1500. The prices are negotiable. These packages are inclusive of your underwater photography and video.

For scuba Driving each individual is provided with a trained scuba driver and a self contained breathing equipment. The scuba driver guides you on breathing techniques under water. You are typically under water with the scuba driver for 15 to 20 minutes. The best time for this activity is early morning when the first boat for Scuba leaves since the water is undisturbed and you get clear view of the underwater life. Tarkarli, Chevla beach and Tsunami island are another location for Snorkeling and Scuba Diving.

Enjoy the Dolphin watch – Dolphin watch is another exciting activity at Malvan. The best time to watch dolphins in their natural habitat is early morning because as the day progresses they move deeper in the sea. As per the local people one can get to see dolphin during boat rides from Tarkarli.
Shop at Malvan local Market – Shoping in malvan is a absolute delight. Malvan is famous for many items like mangoes and its products, Kokam (Garcinia indica) and its products, aavala petha, cashew, malvani Khaja (a sweet made from gram-besan flour and coated jaggery), malvani laadu.

Malvan is a heaven for non-veg lovers. So you can also shop for dried fish, malvani masala like chicken and fish masala, flour of amboli  and ghavan. The main market of Malvan is know as Somwar peth. One can find good quality sweets at Oraskar Shriniwas Bakery & Sweet Mart. Raghav mithaiwala is also a good option for sweets. For cashew and avala petha Zantye is a good option. For malvani masala Patkar shop, Samant shop, Devulkar masale are famous. On almost all beaches you can find shops selling caps, items made from sea shells etc

Enjoy Malvani cuisine – Malvani cuisine is the cuisine of Kokan in Maharashtra and Goa. It is heaven for non vegetarian food lovers specially sea food lovers but one can also find good vegetarian delicacies. Malvan is know for its sea food dishes. You find coconut in all most all food in Malvan.

Among the famous dishes are 'Sol Kadi' – a pink colored drink made up of coconut milk and kokam juice is know for its digestive property. 'Kombadi vade' – consists of the traditional Malvani chicken curry, vade (also known as puri, which is a fluffy, fried bread of wheat and nachni flour), 'Ghavan' – fried pancake madeup of rice powder, 'Amboli' – again a type of pankcake made of rice flour, 'Tandalachi Bhakri' – a Bhakri made of rice flour is the Malvani equivalent of the Maharashtrian Jowari Bhakri or Bajri Bhakri, which is popular across the Deccan.

Other popular dishes are Mori Chi Aamti, Bangda Fry,  Malvani Chiken Curry, Bombil (Bombay Duck) Fry, Paplet fry, Kaju Chi Aamti, Crab curry. Hotels well know for Malvani cuisine are Athithi Bamboo which is near Chevla Beach. Hotel Chaitanya is also well know and a good hotel in malvan city market.
Insider tips
How to reach Malvan from Mumbai – Malvan is around 539 km from mumbai via Chauk – Karjat – Murbad Rd and NH48. However the cheapest route for Malvan from Mumbai is throught train via Shatabdi Express from Mumbai to Kudal then one can easily take a taxi from Kudal to Malvan.
Time required to reach Malvan from Mumbai – Approximately 13 hours by road and 8 hours by train
Budget – Minimum Rs. 1500/day/person (inclusive of the stay, food and water sports).
Best Season to visit – January to April as the climate is pleasant in late winter and early summer.
Who can visit – Anyone from couples to families. For non-vegetarian lovers and sports lovers it is must to visit destination.
In nutshell
Malvan is a complete package of fun. There is something for everyone. For food lovers, there is Malvani cuisine. Sports lovers can enjoy water sports at cheaper rate and lastly for peace lovers, there are beautiful and scenic beaches where one can enjoy the sound of waves with fading sun.
Happy travelling. 🙂